Łukasz Sarek
August 21, 2022
Quick facts
– in the first six months Polish exports to Taiwan rose 64 percent yoy to nearly $136 mln,
– Taiwanese market stands out among other East Asian markets as exports to China, Korea and Japan have fallen,
– capital goods such as vehicles, mechanical and electric machinery and their parts played a key role accounting for more than half of total exports, they also head share in the positive export growth
– Taiwan's import of Polish pharmaceutical products nearly tripled,
– consumer products such as cosmetics and beer have increased presence in the Taiwanese market
Dynamic growth of Polish exports to Taiwan
In the first six months, direct exports of Polish products to Taiwan have increased by almost two-thirds and reached nearly $136 mln. According to Taiwan's customs data, the value of imports of goods originating in Poland has increased by more than 12 percent and amounted to $224 mln. The value of Polish exports to Taiwan is many times lower than exports to China, Poland's largest trading partner in the region. It is also significantly lower than exports to Japan and Korea, other Poland's key partners in the region. However, the high positive growth rate of exports to Taiwan was unique among East Asian destinations for Polish goods. Polish exports to China fell by 13.7 percent in the first half of the year, to Japan by 6.4 percent, and to Korea fell by as much as 17.3 percent.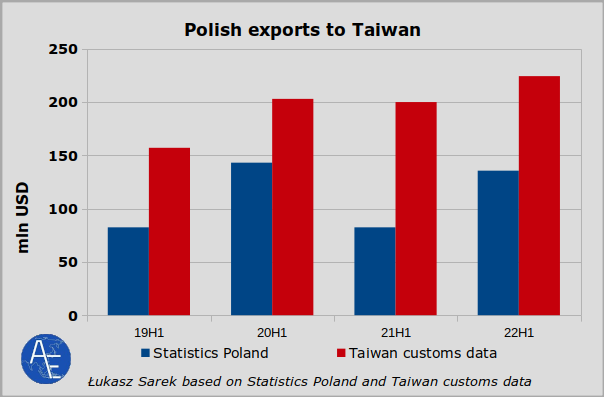 The difference between Taiwanese and Polish data is mainly due to three factors. The export values reported by the Statistics Poland are based on FOB values, while the Taiwanese authorities report import values with included transportation costs and insurance. Some of the goods are imported to Taiwan via third countries with added third parties margin on top of export values reported by Polish exporters. Polish companies does not always know that Taiwan is a final destination for their products. Taiwanese data for the same period as the Statistics Poland's data also does not include goods that have already been shipped from Poland but have not yet arrived at Taiwanese ports.
Key drivers of Polish exports growth
Vehicles (mainly various transport vehicles) played a key role in the exports in first half of this year. Mechanical machinery and electric machinery and equipment, including their parts, were two other major groups of exported products. According to Statistics Poland those three groups of products accounted for more than 55 percent of total exports value. They were also the leading drivers of positive export growth, as they saw increases of 352 percent, 69 percent and 62 percent, respectively. In the groups of products with positive export growth the increase in exports value amounted to more than $65 mln.
According to Taiwanese data imports of mechanical and electric machinery were lower by 35 percent and 18 percent yoy . Given the value of exports, this could mean that some batches of goods exported from Poland have not yet arrived in Taiwan and may have not been included in export statistics. Chemical industry products, especially laboratory reagents and similar products, sold well. Fiberglass products also entered the Taiwanese market in greater numbers. Export of copper cathodes and other copper products was less insignificant, amounting to just over $6 mln. The chart below shows the share of the major groups of products in the positive growth of Polish exports to Taiwan.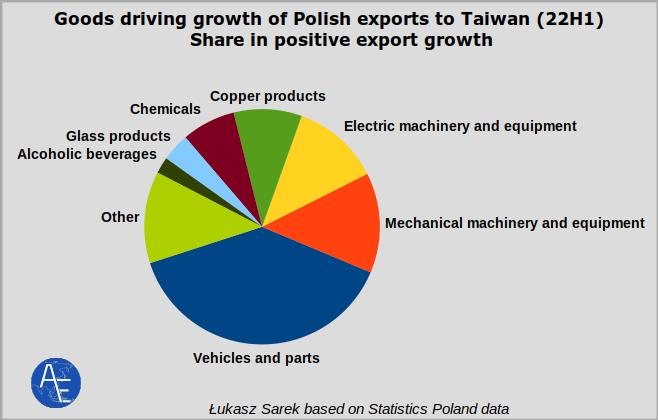 Pharmaceutical products, which are not included in the diagram above, constitute one of several export items, where a particularly large discrepancy between the Taiwanese and Polish data has been recorded, probably due to export via third parties. In the first half of this year. Taiwan's imports of Polish pharmaceutical products almost tripled and reached the value of more than $39 mln. Polish statistics show exports worth about $3.5 mln.
Polish cosmetics and alcohols in Taiwan
The number of Polish cosmetic products in Taiwan is growing. According to Taiwanese data, in the first half of this year imports increased by nearly 15 percent. However, according to the Statistics Poland there was a decline in exports by more than 22 percent. Some Polish cosmetics manufacturers like Irena Eris, Farmona, and Ziaja have been already present in the Taiwanese market for some time. Products of less known in Asia Polish cosmetics manufacturers such as Uroda Polska (BI-ES) and Delia have also marked their presence in the Taiwanese market.
Export of beer is also growing systematically. In the first half of this year it jumped by nearly 60 percent to a value of nearly $1.1 mln. This is still relatively small amount, but it is almost 2.5 times more than in 2019. The Taiwanese market hosts not only beers from Polish brands owned by multinationals, such as products from Szczecin-based Bosman of the Carlsberg Group. Products made by Polish manufacturers have also made inroads in the Taiwanese market. Products of various brands belonging to the Van Pur group such as Brok have been imported to Taiwan. There are also beers from smaller producers, often sold in more specialized stores offering a wider assortment of foreign brands. Taiwanese also have a fairly wide selection of vodka produced in Poland. In addition to the well-known Żubrówka and varieties of Belvedere vodka offered in many stores, there are also spirits of less well-known producers such as Masuria or Ultimate Vodka. Exports of alcoholic beverages increased by nearly 170 percent in the first half of the year.
Limited impact of underperfomers
Not all Polish exporters managed to maintain the last year's export levels. Exports of grain products such as cereal, muesli and other breakfast products fell by 30 percent. Feather and down exports fell dramatically. In terms of value, exports of synthetic rubber and similar products also recorded significant decrease. However, the number of product groups with significant declines in export value is very limited and does not have significant impact the overall positive picture of the Polish exports to Taiwan. The value of the decline in exports in the groups with negative export growth totaled only $11.9 mln. The increase in exports to Taiwan exemplifies the usefulness of diversifying export markets and the benefits of investing in introducing products to smaller Asian markets.